Scanning & OCR Services
Menu: Mailbox Rentals | Scanning & OCR | Business Cheques | Deposit Books | Faxes & Emails | Mail Merges | Stamps & Name Tags | QR Codes | Packaging | PDF Forms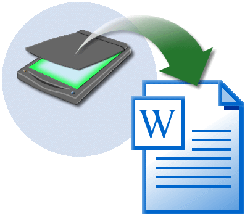 Package Plus offers professional Scanning Services for documents, photos and artwork.
Might you need something scanned to send in an E-Mail? Or perhaps you need to add text to an image, or digitize a photo to "touch up" in Photoshop?
Many offices are cluttered with file cabinets or boxes filled with files and documents, our ultra-fast scanners allows us to quickly digitize it all to be accessed on your computer. We look forward to taking care of your scanning needs.
Optical character recognition, usually abbreviated to OCR, is the mechanical or electronic conversion of scanned images of handwritten, typewritten or printed text into machine-encoded text. A popular use of this service is to take your typewritten manuscript and convert it to a digital format that you can then edit!