Video Services
Menu: Video Transfers | International Transfers | CD/DVD Duplication | Music CDs | LPs & Cassettes to CD
Bruce Stewart, the owner of Package Plus, has over twenty years hands-on experience with Video Transfers, Duplications, and International Video Transfers.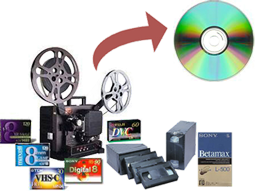 We will take great care in transferring your family memories from your camcorder, camera, VHS/ Beta Tapes and films onto DVD's or VHS Tapes.
We also offer DVD and CD duplicating services for small and large quantities, as well as the creation and printing of the Labels and Case Covers.
Whether you would like us to take care of downloading your pictures and videos off of your camera hard drive or SD Cards, turn your pictures into slideshows, or even prepare a video for you to upload to Youtube, we will prove to you why all of Peterborough and surrounding areas come to us for their specialized video needs.