Postcards & Door Hangers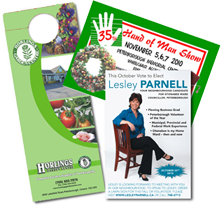 Door Hangers and Postcards are the ultimate advertising tools for "mail-walks" and door-to-door Distribution.
Used extensively for Real Estate marketing, this type of advertising can also be very effective for many types of businesses. A very popular option is the a perforated "tear-off" business card at the bottom of the Door Hanger.
Creating your own Artwork?